Local Attractions in Downtown Guatemala City
Make Some Memories that will Last Forever!
At Hotel Vista Quince, we welcome you to discover the rich heritage, vibrant culture, fascinating attractions and friendly people of downtown Guatemala City. A stroll in any direction from our hotel brings you face-to-face with some of the city's most famous landmarks.
Bustling, expansive and utterly amazing, Guatemala City offers dynamic energy unlike any other metropolis in all of Guatemala. It's a city where future and past rub elbows, as timeless, old buildings squat in the shadows of sleek, modern skyscrapers. You'll also find several pedestrian-friendly plazas teeming with bars, cafés and restaurants, including the Zona 15 neighborhood right outside our doors. Just moments away, world-class museums and galleries include Casa MIMA, Palacio Nacional de la Cultura, Museo Miraflores, Museo Nacional de Arqueología y Etnología and more. Family-friendly attractions like Museo de los Ninos and La Aurora Zoo offer fun for visitors of all ages.
When planning your visit to Guatemala City, the staff at Hotel Vista Quince will be happy to recommend fun things to do and see as well as assist with tours, tickets, transportation and anything else that you might need.
Hotel Vista Quince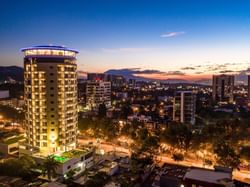 Palacio Nacional de la Cultura